Do you need to relax?  Do you wish you could head out to a fancy retreat and escape your to-do list for the day?  Watch today's video where i'll tell you how you can re-create a relaxing retreat day in your very own home.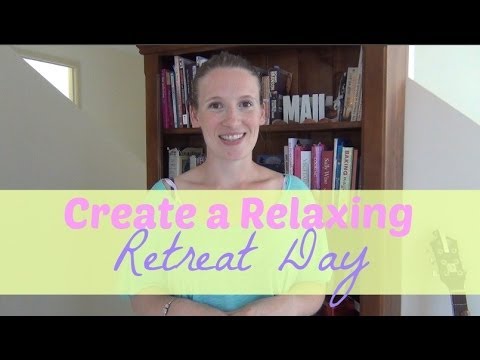 I often talk to my clients about self care.  What that means is looking after yourself before you look after others.  So often we are busy running around after everyone else, making sure they are happy, and have what they need, that we often neglect ourselves.  So my challenge for you today is to set aside some time for your very own relaxing retreat.
This doesn't have to cost a lot of money, in fact, it doesn't have to cost any money at all, and you can do it all in the comfort of your own home.  All you need is one clear day in your calendar.    So once you've cleared a day and you have no commitments, appointments or requirements I want you to start thinking about activities that make you feel relaxed.   So for me it would be reading a book, having a long bubble bath or going for a leisurely walk.  These are all things that make me feel relaxed, but also energised.  So make a list of all the things that make you feel really good, and schedule them into your relaxing retreat.
Make sure that one of your activities is something active.  I don't mean you have to do a hard core workout (although you can if you want) but choose something that is going to get you moving like a long walk, yoga or some stretching.
Pull out all your nice smellies and cosmetics that you've been saving for a special occasion and pamper yourself.
Now, you want to make sure you have healthy nutritious food available and ready on hand (I'd suggest preparing this the night before) so that you aren't reaching for a quick fix throughout the day.  You want to support that feeling of looking after yourself, and feeling relaxed and rejuvenated, so you need to feed your body the right foods.
You may be thinking that taking a whole day to yourself to rest and relax is a bit selfish and lazy, and you might be stressing about all the job that you should be doing, but I promise you, just by taking one day to yourself will be powerful.  You will feel so much better.  You'll have more energy and you'll be happier, making your to-do list easier to get through.
The final thing I want you to do on your relaxing retreat day is to unplug from technology.   Turn the phone off, turn the computer off and take a full day dis-connected from the world so you can re-connect with yourself.
It is so important that you take some time to look after yourself, because if you aren't happy and supporting yourself, then you aren't going to be able to support other people, and your relationships, your work and your health will suffer.
I want to hear from you.  Tell me in the comments below what your relaxing retreat day will look like!